Volunteer of the Year: Jeri Tolstedt
By: Anne Frances Owen ~ 4/4/2022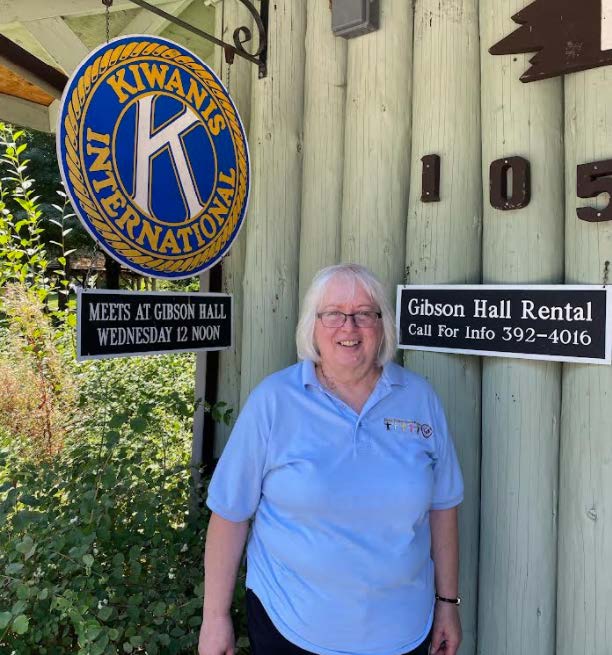 After spending countless hours, working behind the scenes, and adding her talent, diligence, and good humor to a wide range of activities, Jeri Tolstedt has earned our club's Community Volunteer of the Year award for 2022. The Kiwanis Club of Issaquah sponsors this award and the Human and Spiritual Values Award every year, and Club President Barbara de Michele presented them at the 42nd Annual Community Awards Ceremony, which the Greater Issaquah Chamber of Commerce hosted on March 31.
Jeri was nominated for this award in a letter that listed more than 30 organizations that have benefitted from her efforts, and this list shows some recent highlights:
Jeri has organized food and beverage stands for our club's Concerts on the Green.
As our club's treaurer, Jeri has kept our accounting in line for six years.
Jeri has managed our club's barbecues for Salmon Days and, when COVID disrupted that event, sold (out) our Salmon Secret Spice.
Jeri has organized quarterly contributions to our community-meals program.
Jeri has volunteered with other members of our club at the Issaquah Food & Clothing Bank and vaccination clinics with the Issaquah School District.
Jeri has represented our club every month with the Aktion Club of Salmon Country, which helps people with disabilities on the Eastside.
Jeri chaired our club's Boots, Barrels and Brews fundraiser this year.
Jeri is also a member of the Kiwanis Club of Seattle, KCCP-S whose mission is to help find a cure for children's cancer through the funding of Pediatric Hematology/Oncology Fellowships at Seattle Children's Hospital (SCH), in which funds are raised by this Kiwanis club to help fund three or more pediatric research fellowships per year at SCH. These doctors work in the clinics learning pediatric patient care and in the research labs learning to develop and apply revolutionary therapies that will forever change how the children are being treated for cancer.
Jeri's nomination letter also included this quote:
"Jeri Tolstedt is always the first to step forward if something needs to be done. She has tireless energy which she uses to benefit those in need. She is always ready to lend a helping hand and her organizational skills to benefit the community."
Club President de Michele called Jeri a superb and selfless volunteer who richly deserves the 2022 Volunteer of the Year Award. Congratulations, Jeri!

---